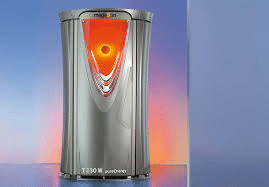 You've gotten your first spray tan, and you almost can't stop marveling at the radiant bronze beauty that stares back at you from every mirror you come across. 
Suddenly some time has passed, and the healthy glow has begun to fade, and let's just say you're not quite as enthusiastic about coming across reflective surfaces as you were only a few days ago. 
Not to worry! All you've got to do is head in for another spray tan session, and you'll be back to bronze and beautiful in no time at all. However, you will probably wonder when the glow will begin to fade again soon after receiving that second spray tan — especially if you've got an event coming up that you want to look your best for. 
So exactly how long does a spray tan last? The answer to this question is something you'll want to keep in mind, but you should know that time is not the only determining factor for the typical spray tan duration. Other factors can shorten or lengthen the lifespan of your bronze incandescence. 
To help you stay glowing at all times, we've created this easy guide that provides some useful tips for preserving your tan for as long as possible.
The Typical Spray Tan Duration
Your spray tan can typically last for 7 to 10 days and possibly even longer if you take the necessary steps to maintain it. However, if you're relying on that healthy bronze complexion for an upcoming event, it's always best to play it on the safe side and assume that your tan will last about a week. 
It's also important to consider your skin tone when determining how long your color will stick around. For instance, if you've got particularly light skin, the fading of your spray tan will become evident faster than if you've got a darker skin tone. 
Because of this, you should assume that your tan will last about five days rather than seven if you've got lighter skin and that you'll have your tan for closer to ten days if you've got darker skin.
How Long Does a Spray Tan Last at the Beach?
You'll most likely be excited to hit the beach with your healthy new glow. But will those UV rays or that salty ocean water affect your spray tan at all? 
The truth is that neither of these things will have a significant impact on the longevity of your tan. Because of this, many people like to get a spray tan before their vacation to look healthy and radiant during the entire duration of their trip.
However, there are a few things you may want to avoid if you're looking to maintain your tan while on vacation. The relaxing hot water in your resort's hot tub may be enticing, but it will more than likely cause you to become prematurely pale, as will that extra chlorinated water in the pool. 
Of course, you may think it's more worth it to take a dip and risk your bronze complexion, but that's up to you.
How to Care for Your Spray Tan
The answer to the question "how long does a professional spray tan last?" depends on what you're doing. There are activities — some of which we've already mentioned — that can speed up the fading process, and there are also steps you can take to prolong your gorgeous glow. 
We've collected a few of those helpful hints and tips below so that you can make the most out of your lovely luminescence.
Be Prepared for Your Appointment
It's not just about what you do after your session. You've also got to make sure that you're as prepared as possible for your spray tan beforehand. 
That means exfoliating — preferably a day in advance but at least four hours before your appointment. This provides a brand-new layer of skin to take in the tanning product as effectively and evenly as possible. 
Showering a few hours before going in can also have a similar effect, and it will save you from wishing you could take a shower afterward, as you're not going to be able to do so for at least eight hours. 
If you're planning on shaving soon, make sure you do it at least four hours before your appointment, and if you're going to do any waxing, manicures, or massages, make sure you do those well before your appointment, too.
Consider Your Clothes
This is another preparation tip. You can wear whatever your heart desires after the spray tan has set in, but before that, you'll want to wear loose-fitting clothes (preferably with no underwear!) so that you don't wind up with a patchy tan due to friction rubbing the formula off. 
This includes footwear, which should be limited to sandals of some sort — and definitely steer clear of socks.
Try Not to Get Wet
Immediately after receiving your tan, take extra care to avoid moisture of all kinds. That includes showers for at least 4-6 hours, as well as rain. Even after your spray tan has set, you don't want to get wet unless you truly have to. 
Keep the temperature down in the shower, stay out of swimming pools and hot tubs, and avoid steam rooms and saunas.
Keep Yourself Hydrated and Moisturize Often
You definitely don't want to be around too much water when caring for your tan, but you should drink plenty of water and make sure your skin stays moisturized with specifically designed products. This will help your skin retain the spray tan, and it will also give you a healthier overall appearance and help the tan fade more evenly.
Spray Tanning in Minneapolis
With nearly twenty tanning locations in the greater Minneapolis area, $5 Tan can  provide you with a stunning spray tanning session. Plus, we can help you maintain that gorgeous golden glow long-term. Come in today!