Want more out of your

experience? Join our VIP club! You know that going to $5 Tan isn't just about getting that bronzed bod. It's about rewarding yourself with the time to relax and unwind. It's about setting aside fifteen minutes to escape from life's pressures and responsibilities. And if you take your tanning and relaxation seriously, then a VIP membership is right for you!
Our VIP members enjoy tanning benefits and product discounts at any $5 Tan salon location, all for one low monthly rate. It's the most convenient and cost-effective way to stay beautiful and bronzed all year long!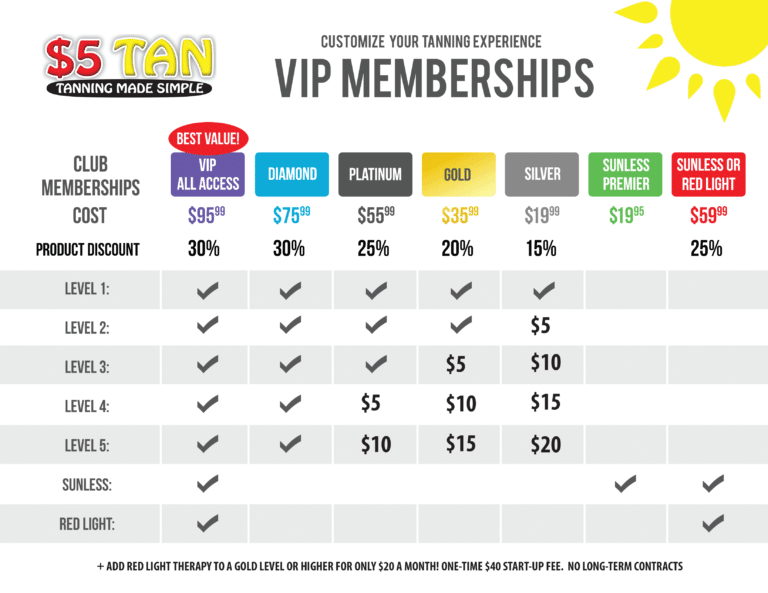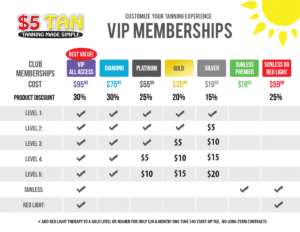 For all VIP memberships, there is a one-time initiation fee of $40; no long-term contracts necessary. One automatic deduction is required. Our guests can cancel their membership at any time by signing a cancellation form in any $5 Tan salon. Cancelling by the 25th of the month will ensure the following month will not be deducted. If our guests plan to start their membership up again, a better way is to "Freeze" their account. That will ensure that the members price will not increase and they will not need to pay the initiation fee when they rejoin. The cost is just $5/month and when our guest "unfreezes" their account, $4.01 of each month paid while frozen will go into our guest's in-house account and can be used for equipment upgrades or products. (Note: It cannot be used to pay for the automatic withdrawal as this is done through the bank, not the salon.) Guests will also receive their product discount while their account is "frozen".
(Note: Freezing/Cancellations must be made in person in any $5 Tan salon by the 25th of the month. Memberships can not be changed or canceled over the phone.)