UV Tanning Services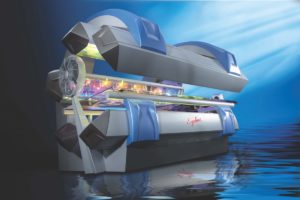 There are two main ways to receive UV tanning. The first is outside, where there are a lot of people and noise; the second is comfortably and lower-risk in one of our technologically advanced tanning beds. The process is the same inside or outside. It's just a matter of how you want to enjoy your tanning time.
At $5 Tan, we make UV tanning a unique and private experience for you. You receive the level of tan you want without the hassles of the outside world.
We use the best tanning beds on the market and offer a wide variety of beds to fit every tanner.
And we know in our beautiful state of Minnesota, we can't always rely on our weather!

What is UV Tanning?
UV tanning is the darkening of the skin with UV rays. The sun naturally showers our planet with these rays. However, if you're not careful, they can cause sunburn. The purpose of getting a base tan is to protect your skin from overexposure resulting in a sunburn. All our machines at $5 Tan offer the same natural UV rays as the sun, and our technicians will help guide you to the perfect shade of tan.

UV Tanning at $5 Tan
---
We offer some of the best tanning beds on the market. With sessions lasting 9 to 22 minutes, you can get in and get out quickly, or enjoy a longer session. With over a dozen locations and late hours, you're sure to find the best UV tanning in your area. We have over 30 different tanning bed models, so we can satisfy all your UV tanning needs. A couple of our top models include the following:
Open Sun 1050
The Open Sun 1050 is the world's greatest high-pressure tanning bed. With over 30 high-pressure units strategically placed throughout the canopy and base, and its superior glass-reflector technology, the Open Sun 1050 manages to be one of the most efficient beds on the market. It has an MP3 player and Fan Cooling Plus technology to provide a relaxing and comfortable tanning experience.
Sun Angel 1400
Besides the illuminating animations, our Sun Angel is the only bed with body scanning technology. It scans your body before starting to determine your skin's current UV levels and calculate the best tanning experience for you. It's important to us that each customer receives a unique experience, and this tanning bed does just that.
Check out more UV tanning equipment at $5 Tan.
Where to Get the Best UV Tanning
---
Look to $5 Tan when looking for the best tanning that provides individual results. We have the highest technologically advanced beds, a wonderful support staff, and the greatest UV Tanning experience you will find.