Spray & Sunless Tanning Services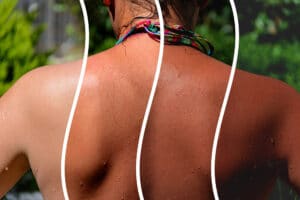 Spray tanning, or sunless tanning, is a great way to get a quick tan that lasts for up to a week. Simply step into one of our automated spray tanning booths, and in four minutes or less, you'll be tan. Our spray tanning booths offer just the right amount of dihydroxyacetone (DHA) to give you the perfect sun-kissed look you're looking for.
Here at $5 Tan, we offer only the best spray tanning booths, so you know you're getting an even tan that'll last. These innovative sunless systems provide UV-free treatments that prepare you for a night out with friends, a school reunion, or whatever event you have coming up.

The Truth About Spray Tanning
Spray tanning is a subtle and sophisticated process to help you receive the right skin tone. It provides better coloring to pair perfectly with specific clothing or gives you a look you want at a ceremony.
One thing to remember about spray tans is that they aren't necessarily about getting darker; they're about achieving a skin-level, sun-kissed glow. The DHA mixes with the body's amino acids to change your coloring temporarily. That is the advantage to spray tanning. You can achieve color quickly and regularly as you wish.

The Spray Tanning Experience at $5 Tan
---
We have created a simple-to-use method for you to get tan whenever you want. Simply enter one of our locations, let the tanning professional know why you're there and what you need, then hit your session! Once inside the private room, you can disrobe, get into the booth, get tan, and get going! Here is a little more information about our sunless tanning equipment:
VersaSpa Pro
The VersaSpa Pro is an innovative spray tanning booth offering a private and heated tanning experience. You can select one of three shades, all of which detoxify, firm, and rejuvenate the skin. This incredible machine has:
Height sensing technology
Options for several spray combinations
Multiple dry passes
There is no better way to hydrate and darken your skin at the same time than at $5 Tan using the VersaSpa Pro. The process takes around four minutes, and the glow will last seven days.
MyMist HD
If four minutes is too long, then try our MyMist HD. It only takes 60 seconds and retains the color for four to seven days. It fully peaks in four to five hours, so if you have the tanning done during your lunch break, you'll have that sun-kissed glow by dinnertime.
Spray Tanning Made Easy
---
$5 Tan has the most sophisticated spray booths on the market. Stop by and see for yourself!