At

, we offer a wide variety of state-of-the art sunless tanning equipment!
UV Free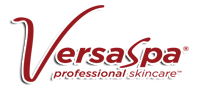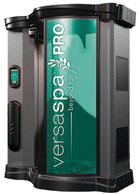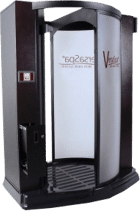 The World's Greatest Sunless Booth
VersaSpa Pro® and VersaSpa ® Sunless Tanning Booth
VersaSpaPro is one of the most innovative sunless systems on the market today. The treatment is UV-free and clients can choose from three shades as well as additional full-body skin treatments, including a hydration spray, skin-bronzer, and anti-aging solution. The VersaSpaPro session takes around four short minutes, but the flawless tan will last up to seven days!
VersaSpa® has combined innovation after innovation to create the world's first automatic skin treatment system that helps you bronze, hydrate, and smooth your skin in just 60 seconds. Innovations like a wide open interior design, an EZ-2 Breathe purification system and Heated Comfort-Dry technology. This unit will tan and moisturize your skin in one easy session while soothing dryers perfect your tan.
VersaSpaPro: Blaine | Cottage Grove | Eagan | Eden Prairie | Lakeville | Lakeville 2 | Minnetonka | Savage 2 | Shakopee | West St. Paul
VersaSpa: Burnsville | Coon Rapids | Eagan 2
---
MyMyst & MyMyst HD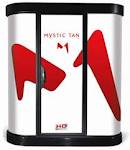 Get a Tan in Less Than 60 Seconds.
Mystic Tan Provides A Premiere UV-Free Tanning Option.
Mystic Tan makes an immediate fashion statement, creating an even, natural looking tan that peaks four to five hours after application and retains the color for days. In addition, many people use Mystic Tan to prepare for special occasions: spring break, class reunions, first dates, graduations, proms, weddings, etc.
The Mystic Tan UV-Free tanning booth uses a touch-free, spray-on tanning technique that creates an even, natural-looking tan in less than 60 seconds and lasts four to seven days. Mystic Tan's proven spray-on technique dispenses a fine mist of its proprietary sunless tanning solution, made up of moisturizing Aloe Vera, bronzers and sunless tanner. The booth's patented MagneTan technology then uses the human body's natural magnetic properties to evenly attract the solution to the body. The tanner simply disrobes in a private room, enters the booth and presses the start button. After 60 seconds, they step out, towel off, and leave complete with an instant tan. MyMyst HD provides a heated booth and dryers to dry and perfect your tan.
MyMyst HD: Apple Valley | Eden Prairie | Savage | West St. Paul
MyMyst: Lakeville 2