Want to take years off your skin without the use of harmful chemicals or invasive surgeries? Red Light therapy is your ticket. Within just a few weeks, your skin will be noticeably softer, smoother, and firmer.
At $5 Tan, we are proud to offer red light therapy services to our fellow Minnesotans at all of our convenient locations.

What Is Red Light Therapy?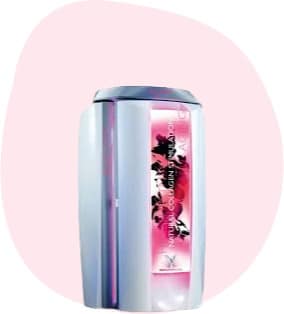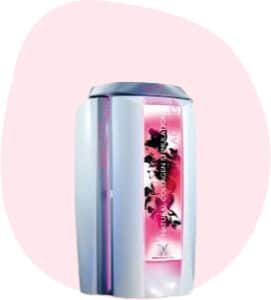 Red Light therapy is a non-invasive therapeutic technique that incorporates low-level red light to solve skin issues.
As red and near-infrared light penetrates the skin, it goes directly into the cells, where it is absorbed. Your cells convert this light into energy. This energy boost for your cells is used to stimulate the production of collagen and elastin, two proteins that work together to give your skin its texture and firmness.
Your cells also use this energy to increase oxygenation, which improves circulation and helps repair damaged tissue.
The Reported Benefits of Red Light Therapy
---
Red Light therapy offers a multitude of benefits for both skin health and appearance. Some of these benefits include the reduction and diminishment of:
Scars
Wrinkles
Age spots
Acne
Redness
Red Light therapy has also reported to be helpful in providing relief of some medical conditions, particularly ones associated with itching, redness, and pain, such as:
Psoriasis
Rosacea
Eczema
Arthritis
At $5 Tan, we understand just how impactful red light therapy can be, especially when it comes to providing relief, which is why we have numerous options available for our customers.

Red Light Therapy Options at $5 Tan
---
If you're looking for versatility in your red light therapy sessions, $5 Tan offers several different red light therapy machines to help you customize your experience.
Red Light Bed
Though they may look like tanning beds, our red light therapy beds offer an entirely different experience. These beds provide a relaxing space while you get your therapy. Simply lie back and let the red lights do the work.
Red Light Booth
The same safe, non-UV red healing light, but delivered from 360 degrees from red-light-emitting diodes.
Beauty Angel (Red Light Stand-Up)
$5 Tan is proud to carry these state-of-the-art stand-up red light therapy booths. As you soak in the soothing warmth of the red lights, the platform beneath you vibrates, stimulating your muscles as they flex and relax, which increases circulation and metabolism for a full-body experience.
Red Light Therapy at $5 Tan
---
Are you looking to show your skin a little love? Stop by $5 Tan at any of our convenient locations. Our caring and friendly staff will guide you through the process as you start your journey toward healing and looking and feeling better. Contact us today or find one of our locations near you.