Red Light Therapy     –      Technology Invented and Discovered by Nasa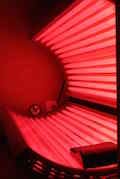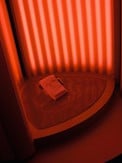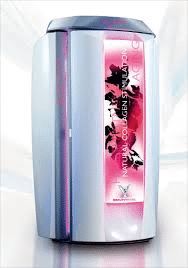 Discovered by NASA, red light equipment helps penetrate to the bottom of your skin's dermis layer and directly to the fatty layer. Red light stimulates fibroblast cells which boost the production of collagen and elastin proteins. Reported benefits are:
Firms, tones and increases skin elasticity
Proven effective in the repair and rejuvenation of skin
Minimizes wrinkles, fine lines and pore size
Improves skin tone and clarity
Helps diminish acne blemishes
Increases blood circulation to the skin
Fades scars, stretch marks, age spots and irregular pigmentation
Creates smooth skin that appears more youthful and allows for a longer lasting tan.
Reduces pain and inflammation from tendonitis, arthritis, torn muscles, fibromyalgia, broken bones, strains and nerve damage
100% tan tax free
Red light emits ZERO UV light and will NOT tan you.
How to use Red Light Therapy:
Skin will be noticeably softer and smoother after just 3 or 4 sessions of red light therapy, with visible reduction of fine lines and wrinkles after 60-90 days of continuous use.
We suggest three sessions per week for 2 weeks (or more if required), then 2-3 sessions per week for 6 weeks for best results.
Red Light therapy can be done immediately before a UV-free spray tan, and many customers report improved spray tan results when preceded by Red Light therapy.
Note: These statements have not been evaluated by the Food and Drug Administration. This product is not intended to diagnose, treat, cure or prevent any disease.
Preparing for Red Light Therapy:
To maximize skin rejuvenation, we recommend:
Wearing no make-up or moisturizers
Weekly exfoliation for better light penetration
Using Red Light Prep Spray before your session to best prepare your skin.
Using Red Light Post Creme after your session.
Using Red Light Targeting Serum anywhere you want a greater result.
For pain management, follow up with range of motion exercises and light stretching.