Tips for A Beautiful UV Tan
Are you looking to build a deep, glowing tan? $5 Tan offers a variety of indoor tanning options, including sunbeds and spray tanning. Our tanning experts can help you start the perfect tanning routine to maintain a gorgeous glow all year round. Before beginning an indoor tanning routine, check out some of the ultimate tanning bed tips to help you build the best color!

Knowing Your Skin Type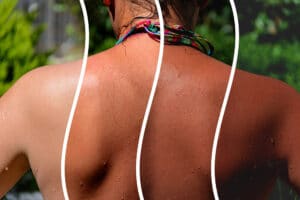 The most important tip for getting the best tan is knowing your skin type. Your skin type will determine most of the details of your tanning routine, including tanning time, maintenance, what lotions to use, and what level to tan at. Learn more about the different skin types here:
Type 1:
Type 1 skin refers to very pale white skin that burns incredibly quickly with very short UV exposure.
Type 2:
Type 2 skin is pale to light beige skin that can tan but burns easily with UV exposure.
Type 3:
Type 3 skin is olive to light brown skin that tans quickly but can still burn with extended UV exposure.
Type 4:
Type 4 skin is medium to dark brown and tans very easily with short tanning sessions.
Type 5:
Type 5 skin is dark, deep brown skin that tans incredibly easily with quick tanning sessions.

Before Tanning
---
Check Medications: Before going for any new tanning sessions, check any prescriptions you may be taking to see if they interact negatively with UV exposure. Certain medications increase the skin's sensitivity to UV rays.
Exfoliate: Before your tan, be sure to shave and exfoliate your skin to achieve the best results. Exfoliating helps to prepare your skin for your tanning session by removing dead skin cells. That does not have to be a deep exfoliation. All you need to do is use a loofah, brush, or bath puff during your shower beforehand.
Moisturize: After showering, shaving, and exfoliating, apply a light, non-oil-based moisturizer to your skin. Here at $5 Tan, we carry moisturizers explicitly designed for tanning! Our tanning lotions and accelerators can help you develop a deeper color and extend its longevity.
Lip Balm: Immediately before your tanning bed session, apply a lip balm with SPF to your lips. Many $5 Tan locations carry lip balm. You can check with your nearest location to see if they sell this product!
Remove Accessories: When getting ready for your tanning session, remove all makeup and jewelry. You should also avoid wearing heavy perfumes or essential oils as these can produce adverse skin reactions.
During Tanning
---
Wear Protective Eyewear: The law requires that all tanners wear protective eyewear during a tanning session. That is because UV rays can be hazardous for your eyes. At $5 Tan, we provide the appropriate eyewear for your tanning session. Once you purchase a set of our protective eyewear, make sure to bring it to all of your future sessions! **WE provide this for free. No need to purchase and bring with!**
Cover Sensitive Areas: Whether you tan fully nude or with minimal coverage, make sure to protect sensitive areas that are not used to UV exposure.
After Tanning
---
Wait 24 Hours: Here at $5 Tan, all tanners must wait at least 24 hours between sunbed sessions. That gives your skin time to develop color properly and provides time to recover from UV exposure.
Maintain: To maintain your perfect shade, you should attend two to three tanning sessions per week, depending on your skin type. You can consult with one of our $5 Tan experts to determine how often you should tan to keep your color.
Find A $5 Tan In Minnesota Near You
If you're ready to get a beautiful, long-lasting glow, find your nearest location to book an appointment or ask us any questions!