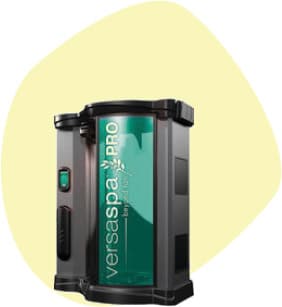 Spray tans afford you the opportunity to sport sun-kissed skin, regardless of the time of year. Not only are they considerably safer than soaking in the UV rays from the sun, they allow you to choose the exact shade you want in mere minutes. That's fast compared to other time-consuming tanning methods. Below are some tips describing how to make a spray tan last.
How to Keep a Spray Tan Longer
Okay, so the process is fast. But, just how long do spray tans last, and how can you extend them? Depending on the darkness level you choose, they can last up to ten days, but with a little preparation and care, you can hold on to that golden glow just a little longer. 
Here are the top five things you can do to extend the life of your spray tan.
1. Start with Exfoliation
The day before your spray tan appointment, take some time to exfoliate your skin. It's one of the most important things you can do to ensure your tan lasts as long as possible. 
Use an exfoliator mitt and an exfoliating cleanser or cream to eliminate dead skin cells and debris. Dead skin cells can block tanning agents and cause streaks.
The day before your appointment is also a good time to shave or wax. If you wax after your spray tan you risk stripping the tan off your skin. 
2. Moisturize
If you're looking for an easy way to extend a spray tan. it doesn't get much easier than moisturizing correctly. 
Moisturize the day before your appointment, paying extra special attention to those areas where your skin is the driest, such as elbows and feet. Not only does this help your skin heal after the exfoliation, it'll also help to ensure your tan sticks by prolonging natural exfoliation. 
Natural exfoliation is when your body sheds dead skin cells every seven days. While this process is your body's way of naturally maintaining smooth and healthy skin, it takes a toll on your freshly applied spray tan, which sits on the top layer of your skin. 
Moisturizing helps to slow this process down, which makes it an essential part of prolonging the life of your tan. Making a habit of moisturizing after your spray tan helps delay the fading and helps your tan last as long as possible. 
3. Shower Carefully
If you want to learn how to extend a spray tan, know that the first eight hours after are critical. This is when your tan is setting, so don't get wet! The more hours you can wait to take your shower, the better. This buffer period gives the tan more time to develop. Eight hours should be the minimum wait time. If you can wait 24 hours, that'd be optimal. 
Make It Quick (and Cool)
When you do take that first shower, keep it short and sweet. Consider it more of a light rinse than an actual shower. Use warm water instead of hot, and avoid using soaps, shampoos, or any of your other usual shower products. It's also important to avoid scrubbing and hold off on shaving. 
Pat Dry
When you get out, pat yourself dry gently. Any rubbing may result in the accidental removal of the spray tan, which will result in a splotchy look. 
Use the Right Products
While you're working on preserving your spray tan, your showers will look a little different than normal. Be mindful of the products you use. Opt for ones that are free of parabens and sulfates. 
You'll also want to avoid products that contain alcohol and dyes, as these can dry out your skin and cause your tan to fade prematurely. All professional products sold at $5 Tan are free of these and designed to extend the life of your tan!
Again, keep the showers quick and cool, and always pat dry to avoid inadvertently rubbing the color away. The gentler you are, the longer your tan will last. 
4. Don't Sweat it
One of the best tips for how to extend a spray tan is to avoid sweating. This is particularly important during the first eight hours after application, but you'll want to avoid excess sweating anyway to make your tan last. 
Why? Moisture is one of the biggest threats to tanning sprays. You should avoid going to the gym, saunas, and even swimming pools, as the chlorine will speed up the fading process. 
Tips for Staying Dry 
Apply baby powder to your skin, paying close attention to the sweaty areas and the areas where your skin rubs together, such as inner thighs, the backs of your knees, and your joints. Stay hydrated and stay out of the heat and direct sunshine. The cooler you stay, the longer your tan will last. 
5. Touch Up as Needed
One more great tip for how to extend a spray tan is the occasional top-off. Alternate between using a regular moisturizer and a tan extender every other day to keep your tan looking fresh. 
There are a lot of different products on the market to help with this, including sprays, foams, and gels. Choose one that has DHA mixed in with a moisturizer for the best results. We always recommend using professional sunless tanning for the most natural looking results.
Local Minneapolis Tanning in MN
The experts at $5 Tan know how to extend a spray tan. Come visit us at one of our many convenient Minneapolis locations today! From skilled application by our trained professionals to expert advice on keeping a tan longer, we can do it all and answer any questions you have.