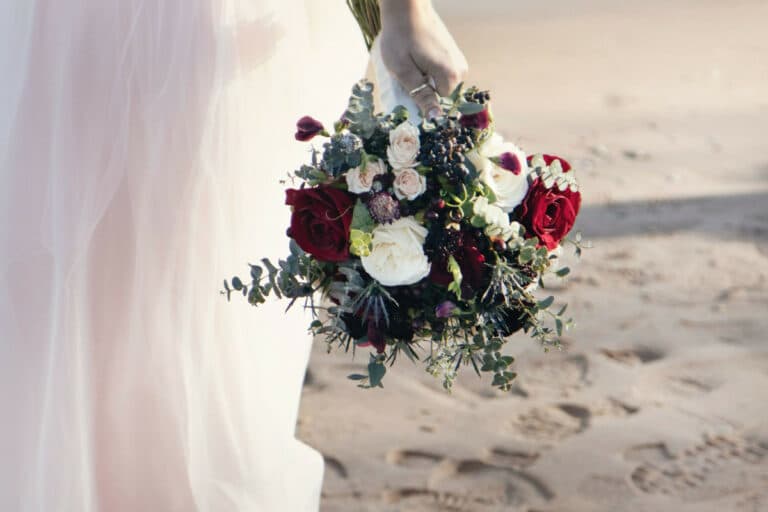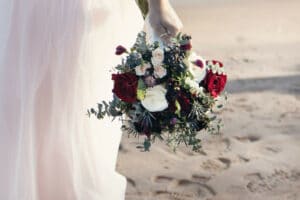 You have a date set for your wedding, and you want to make sure everything is perfect, especially how you look in your dress. Tanning is a common beauty prep measure for brides, but it has to look natural. Many people wonder, what's best for an authentic-looking tan? A tanning bed or spray tan for weddings?
The Difference Between A UV Tan or Spray Tan Before Weddings
Reaching that perfect golden glow for your wedding is important, and there are only three ways to achieve it: sunbathing, a tanning bed, and a spray tan. Sunbathing isn't practical since you have to dedicate most of your time preparing for the wedding (and it creates undesirable tan lines). So, you have to ask yourself, what do most brides and grooms-to-be choose? 
Many people do both a UV tanning session and a "test" spray tan to try and determine their desired color level. This also helps you learn what to expect and make a decision on whether to schedule a session right before the big day or not.
What Is a Spray Tan?
A spray tan allows you to enter a standing booth or a bed and receive a quick tan in about 15 minutes. You can build your tan over time leading up to the big date.
What Is a Tanning-Bed Tan?
Much like the spray tan, you can build up a pre-wedding tan in a tanning bed or booth, as well. You have the advantage of lying down in a tanning bed and leaving in as little as six minutes. What's the right option for you? That really does depend on the level of tan you're looking for and your overall current tan level. The higher level of tanning bed used you will have more of a natural golden glow.
Tanning Bed or Spray Tan for Weddings Beginning Process
Preparing for your tan is the first step you should take. Although neither is a lengthy process, both tanning beds and spray booths have time and comfort level considerations.
Spray Tan
Many studios will ask you to wear loose clothing to the appointment. You shouldn't sweat or chafe before the tan. Once there, you will have the option to strip down to your underwear, or less if you prefer. Tie your hair up and remove all of your make-up to ensure smooth, natural-looking results.
Tanning Bed
You should also remove your makeup and put your hair up before entering a tanning bed. Tanning beds and some tanning booths allow you to either lie down or stand to ensure you get an even color. All of our salons provide goggles you can use, or you can bring your own. Bikinis or nude tanning are the preferred methods, but be careful to cover your more sensitive areas if you choose nude to avoid over-exposure.
Tanning Bed or Spray Tan for Weddings Tips
You will not achieve the best tan unless you prepare your body ahead of time. Here are a few tips to maximize your wedding tan.
Exfoliate
Exfoliating removes dry skin from your body. Although it may not be apparent, there is dry skin hidden all over you. It blocks both types of tanning from even disbursement. Tanning on top of dry or dead skin can peel and leave blotches. You should exfoliate within two days before your first tan and again two to three days afterward. If you received a spray tan, perform a light exfoliation afterward so that you don't remove the color.
Tanning Lotions
Professional tanning products are essential to get optimal results and keep your skin's appearance looking its best. There are primer products that give your skin the best base for natural spray tan results. UV tanning products have ingredients to initiate the skin's tanning process as well as options for deeper levels of bronze color than you can achieve naturally. All are packed with high end skin care ingredients for maximum hydration, anti aging and extending your results. Lotions are typically not necessary for spray tanning but essential for tanning booths. If you are trying to get a really quick tan and want a darker tan immediately, then lotions are a skin lifesaver. They help initially with keeping your skin moist and continue to moisturize and protect after the tanning is finished.
Plan Ahead
A spray tan before the wedding rehearsal doesn't offer much time to change your coloring if necessary. We recommend trying at least one test spray tanning session (especially for 1st time spray tanners) to see what level tan is best for them and any adjustments before the big day. If you're not sure when you should start the tanning process, here are a few things to consider:
Wedding Dress Fitting
If your dress is plain white, it may be easier to achieve the right tan, but if your dress is off-white, then having the tan already in place during the wedding dress fitting will give you a heads up toward lightening or darkening your tan.
Makeup Trial
Having the right color of tan is essential before your makeup trial. It will help the makeup professional find the right coloring to match your skin, dress, and overall wedding colors.
How Long Tanning Bed or Spray Tan for Weddings Last
A wedding spray tan will last five to ten days, depending on your lifestyle and skin care habits. It's important to maintain trials as needed until your wedding day. Avoid pools, if possible; the chlorine can fade the spray tan quicker. Also avoid exfoliating, oil based products. Bathing, sweating, anything that sloughs off skin cells will lighten your spray tan faster. 
Tanning bed tans can last up to four months, depending on how dark you are at your last appointment. Try to achieve the desired color ahead of time, so you have time to alter it slightly before the big day if necessary.
Tanning in MN
Finding a reliable tanning salon with knowledgeable staff can be difficult, but at $5 Tan, we have you covered. We offer state-of-the-art UV tanning, sunless tanning, and Red Light Therapy options, you're guaranteed to find the level of tanning you need for your wedding. Visit $5 Tan today, and let us help you look your best for your special day.